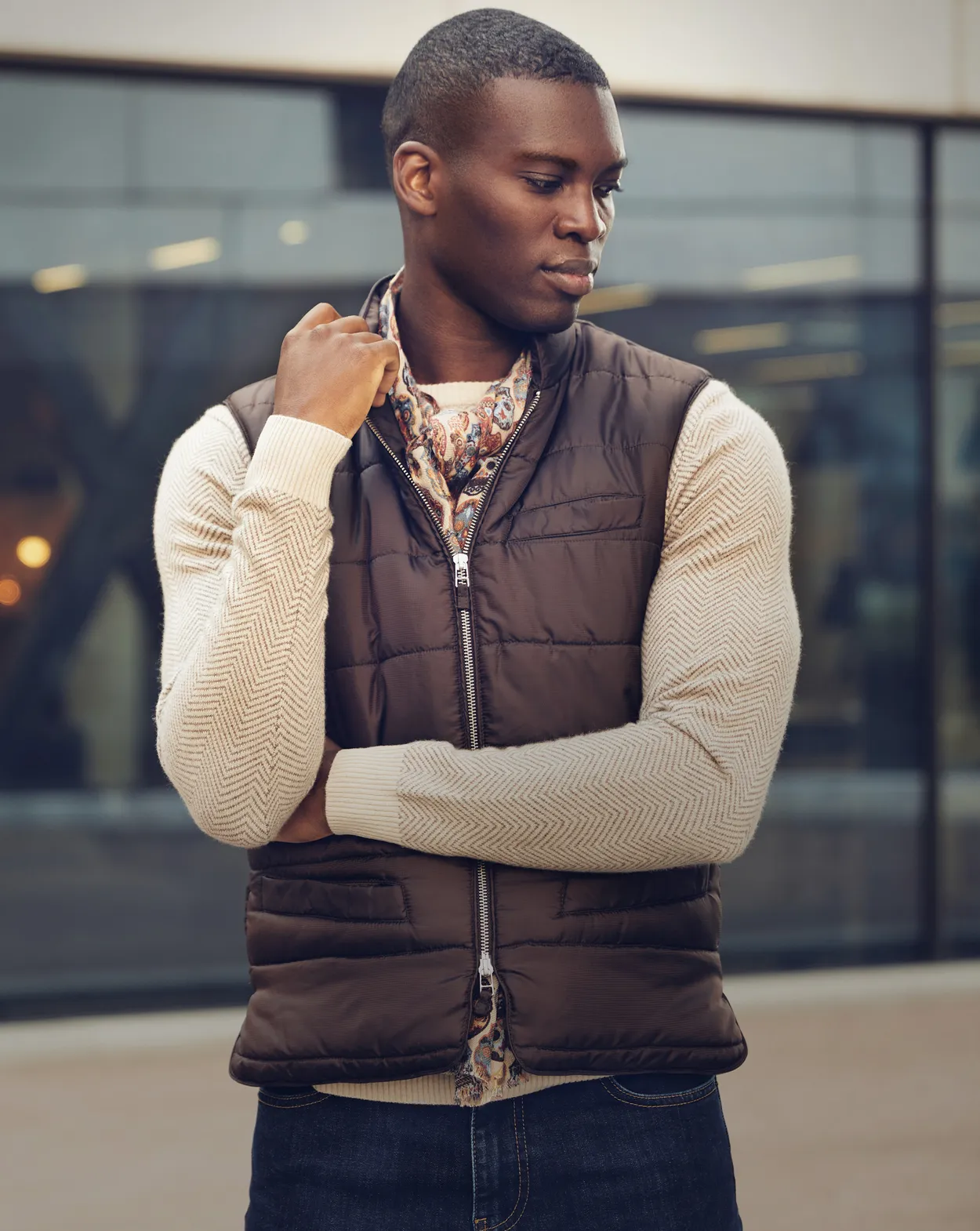 Style advice

The art of wearing a vest

There are many examples of the perfect fall clothing choice. A puffer vest is one.
It is incredibly versatile and appropriate for a variety of occasions, like spending time with your partner, at work or just alone time. For many, a puffer vest might be out of their comfort zone and something they have never tried. Maybe that's the case for you? Still though, when you see someone else wearing one, you tend to take another look, right? Because it looks great!
Text: Emanuel Kristing | Photography: Ion Kombokis Lancing | Published: 2021-10-06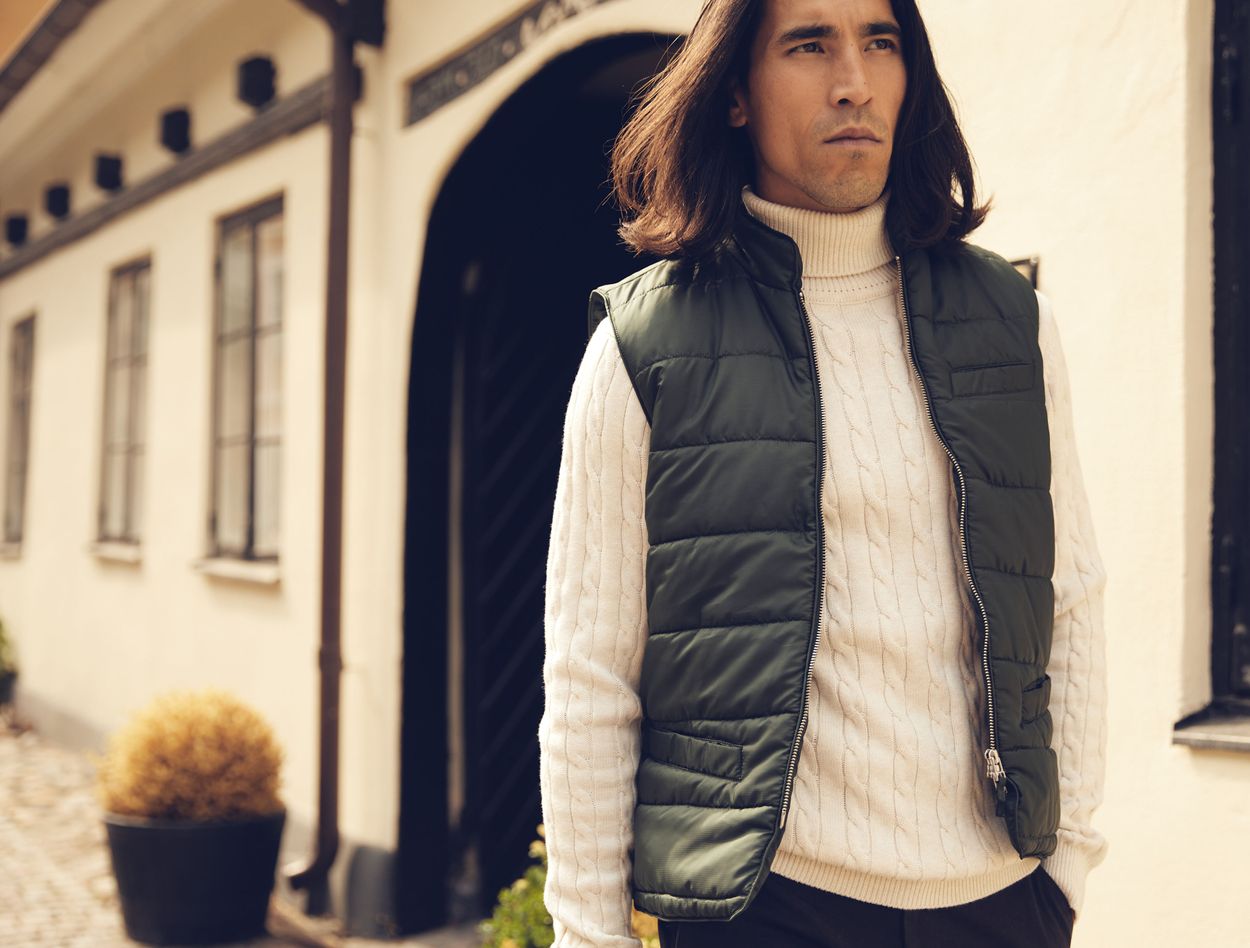 Being well-groomed and stylish is fundamental. It can also reflect how confident you are. And let's be frank. There are some occasions where you really don't want to get it wrong. For example, being inappropriately dressed could be the deciding factor for whether or not you get a job offer. If you show up for an interview in a tailored shirt with a blazer, having paid extra attention to the cut and fit, we promise that it will earn you extra points! Meeting your in-laws for the first time? Well, you don't want to make the impression of a being sloppy guy, right? You want to demonstrate that you look good and are stylish...that you are comfortable in your own skin without being too cocky. The French have the perfect word for this, which is chef‑d'oeuvre. You want to, with exuberant energy, demonstrate that you are a walking piece of art!
There are lots of reasons why a vest can be right for you. It's the perfect item for both dressy and casual looks. It is lightweight, yet keeps you warm and lets you retain free range of motion with your arms. When the weather is unreliable, a vest is the perfect choice. It also frames you physique, enhancing the V-shape of your upper body. Not a person who goes to the gym much? Don't worry. As long as you don't choose a vest that is too large, your look will be spot-on stylish and masculine. On the way out, on a warm spring evening? See it as a great opportunity for wearing something more lightweight than a jacket. Having said that, a vest is equally perfect for fall. It protects your chest from the cold winds. Don't hesitate to wear it under a coat on bitter winter nights either. And, just as with the options for wearing a non-formal denim shirt instead of the almighty linen, there are many ways of wearing a vest. To help you along the way, we present three variations below on how to style the look. We hope you will realize just how luxurious a vest can be!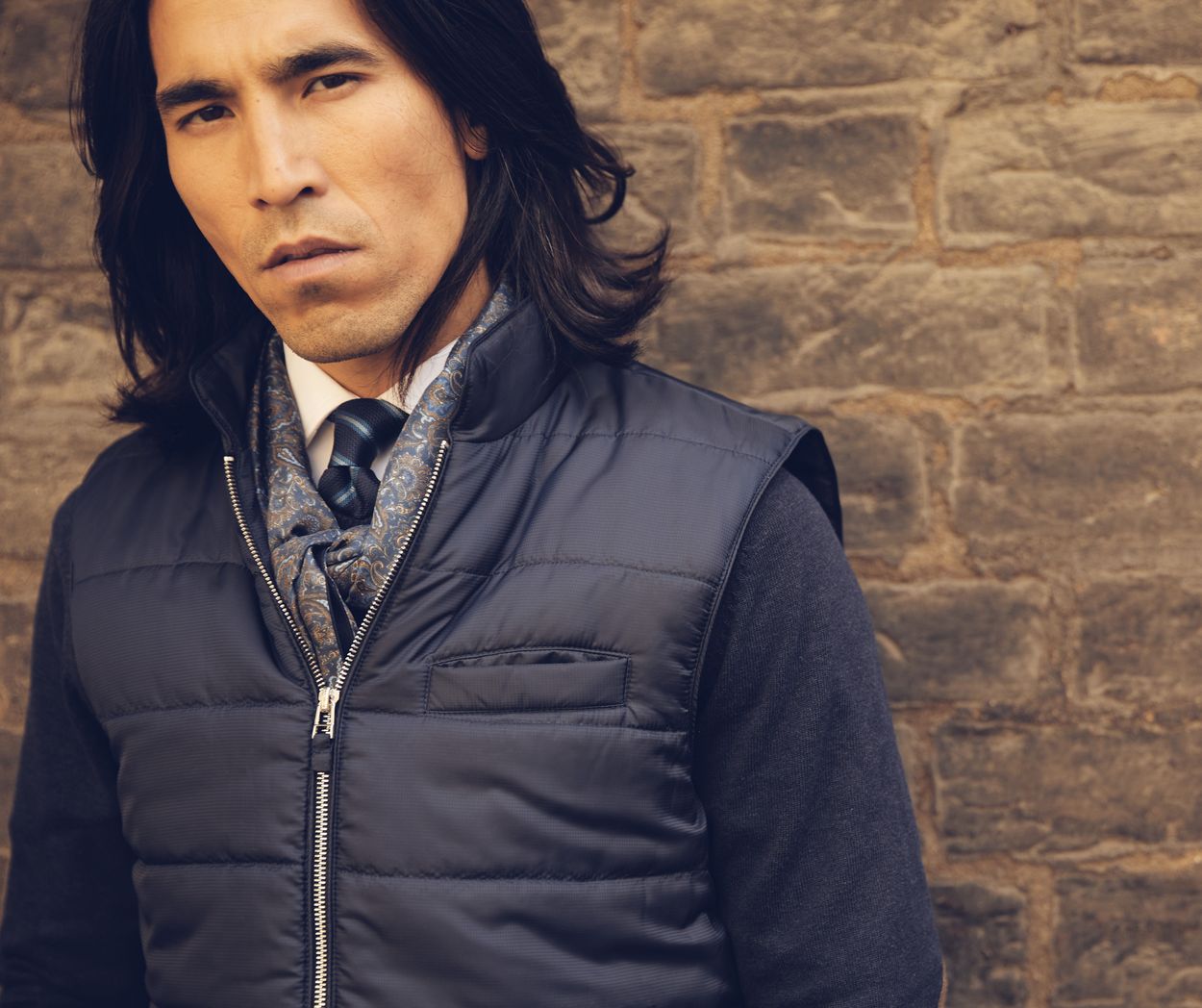 For the well-dressed

If you want to wear a vest to the office, a more formal design is required. We recommend that you wear it under a blazer. Choose a colour in a similar nuance as the blazer. That way, the contrast will not be so large. You can also, of course, add other accessories to your outfit, since that will always add the finishing touch to your look. A silk scarf, for example, would really take it to new heights. And, as always with a formal look, choosing the right size is essential. Make sure not to choose a vest that is too large because you don't want to look like you're wearing a life jacket. Too small is a bad idea as well, since it would constrict your movement and make it harder to breathe. You want your vest to fit you as perfectly as your favourite white twill shirt. Top it off with a paisley bow tie to achieve the ultimate look.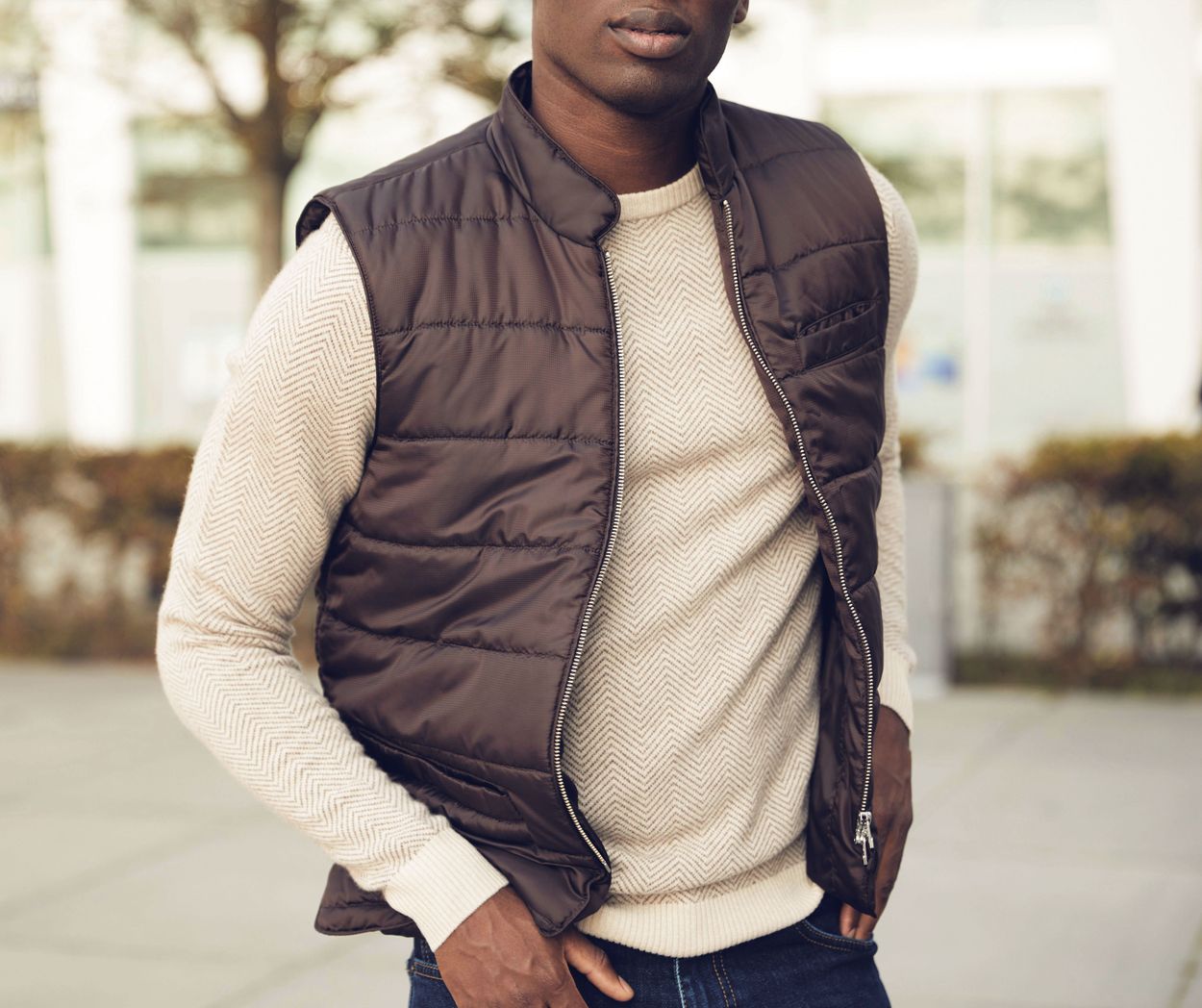 The carefree look

Wearing a vest does not have to be demanding. Let it instead represent your confident, carefree attitude. If your vest has buttons, don't hesitate to leave one or two unbuttoned. If it has a zipper, we suggest that you don't zip it up all the way. You can also wear your vest completely unzipped over an Oxford shirt or a flannel shirt in a matching colour. When it comes to trousers, great choices are loose-fitting chinos, dark wash jeans or even a pair of wool trousers. You deserve to be comfortable! You might shy away from a more daring colour, but we encourage you to be brave! By choosing other items in subtle colours, you can tone it down and achieve the perfect balance. One way to do that is matching your vest with a pair of blue jeans and a merino wool sweater. Add a wool scarf to boost the look to entirely new heights. Because, a wool scarf is not just stylish. It also keeps you warm on chilly fall days and evenings. You can trust us on this!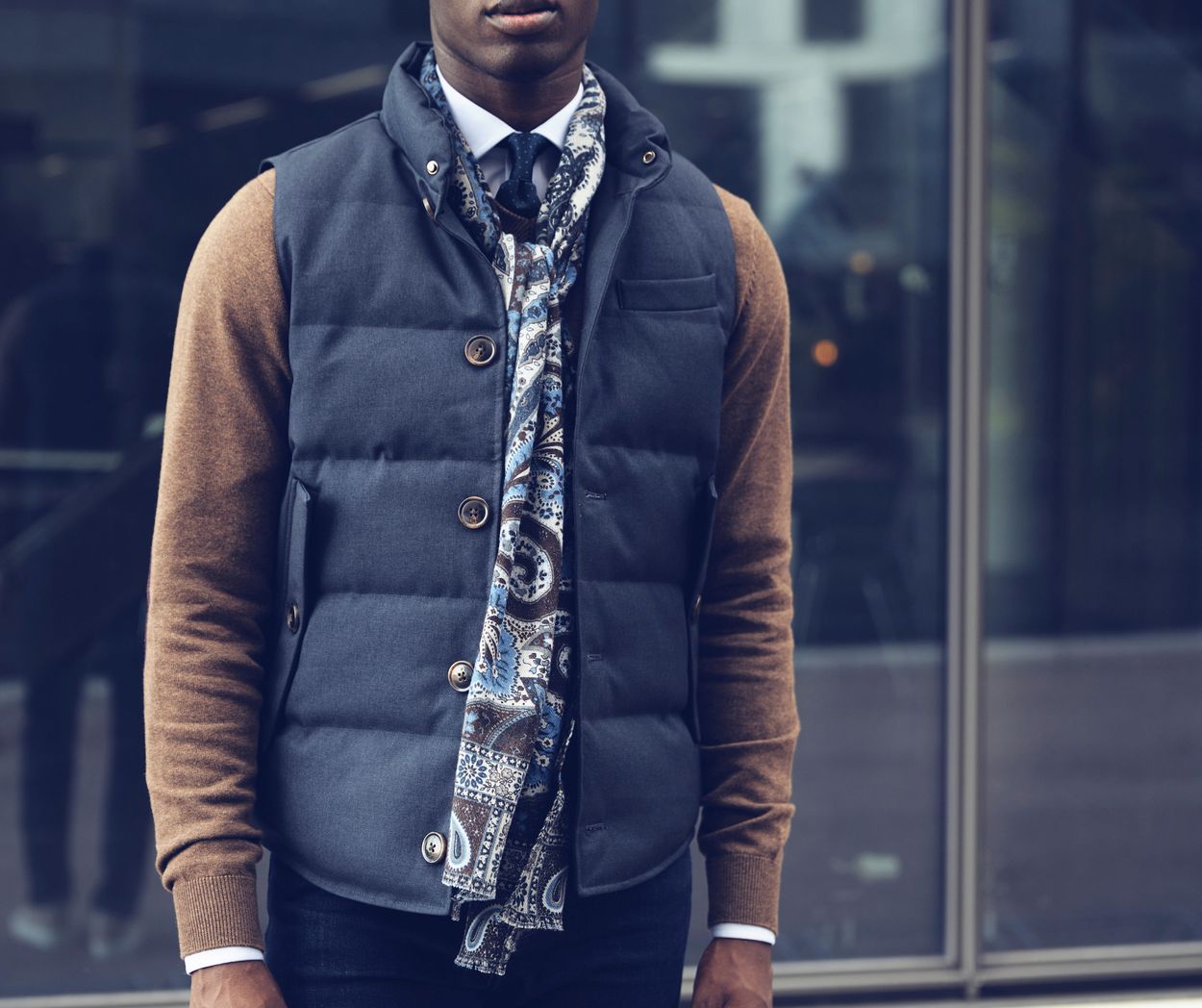 Layered look

Nothing beats the layered look. What do we mean by that? Layering is a way to stay warm and achieve spot-on style. By wearing several layers, your look becomes highly versatile! And as the weather turns colder, you will stay warm without having to put on your bulkiest coat. In other words, just because it turns cold doesn't mean that you have to compromise on style. There are ways of dressing elegantly, even when the thermometer dips below zero. The solution? A vest, of course! A vest looks great worn with a white, casual shirt and a beige cashmere sweater or a dark turtleneck. But the icing on the cake will be your slightly snug vest in a darker colour. It can be a good idea to pick a thinner vest, so you don't get too warm. Or, why not really go for it, with a reversible outer vest? In general though, the thinner vest will enable you to throw on a coat, no problem.
We recommend that you go for three layers. How about a ribbed cardigan in pima cotton, or a crisp turtleneck matched with a thinner vest, topped off with a double-breasted blazer? Don't just settle for being warm when you can also be stylish! Making sure you feel stylish is the whole point of this article. We wanted to inspire you by showing how versatile and perfect a vest is with everything from a brown corduroy shirt to a cotton polo shirt! We hope you will want to add a vest to your everyday look. Regardless of the challenges you will face, jobs you need to get done or goals you must achieve...a vest is the perfect choice.