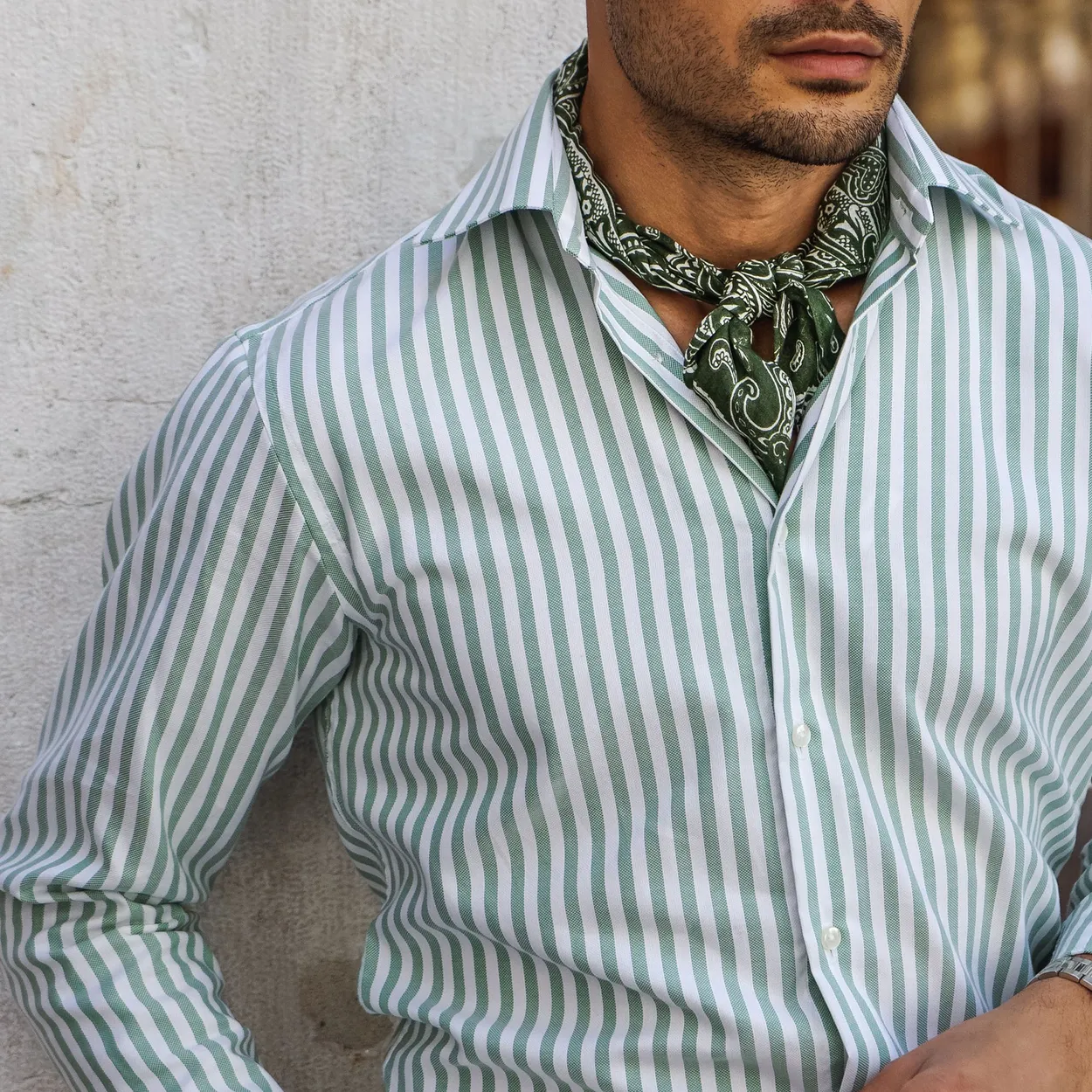 Style advice

How To Wear A Bandana

New cool geometric designs can add a graphic twist to your simple white t-shirt, while a silky texture will add an elegant accent to your ordinary suit for a style that's stands out. And the answer is yes, men can and should also have some bandanas in silk. Even if it's still most common to see men wearing bandanas around their neck, lately you may have seen gents wear bandanas around their wrist a lot more, both as a timepiece accent and solo. It's like a bracelet, but a bit bolder and more unique. The bandana is maybe the only accessory for men that you can see worn by rock stars, young streetwear proponents and wall street traders at the same time, but in different ways. In this guide we go through the different ways on how to wear a bandana.
Text: John Ekström | Published: 2021-03-08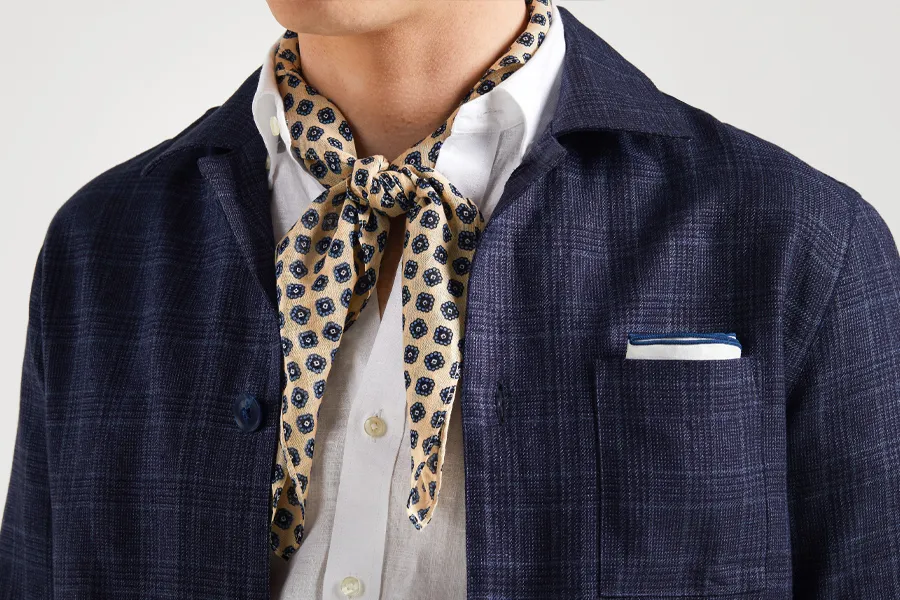 Around the Neck
Wearing a bandana around the neck is one of the easiest and most common ways to wear a bandana. The look can suit just about any man and can work for both smart casual and casual occasions. Here we prefer a small bandana to keep the appearance subtle. One classic and elegant way is to place it around your neck and just tie a knot at the front. For a bolder look you can try to knotting it at the back of your neck with a corner left loose at the front. If possible, you may even be able to wear your bandana as a scarf. No matter how you wear it, be careful of your bandana's color. Choose bold colors like red or burgundy to add excitement to otherwise neutral outfits and softer tones for outfits that already contain color.
Around the Head
You can try tying your bandana around your head for a little bolder rock and roll look. This look is perfect for achieving a statement style and a favorite among musicians. It's also an nice choice for men with long locks. Try it for yourself when attending your next gig or festival. To achieve the look, start by choosing the perfect bandana. You can either keep your appearance subtle with a neutral color like black or go bold with a vibrant color. Once selected, lay your bandana flat. Then, fold it lengthways multiple times into a long rectangle. Finally, tuck in any loose corners and tie it around your head. Pair your bandana with a casual and cool streetwear outfit to complete your look.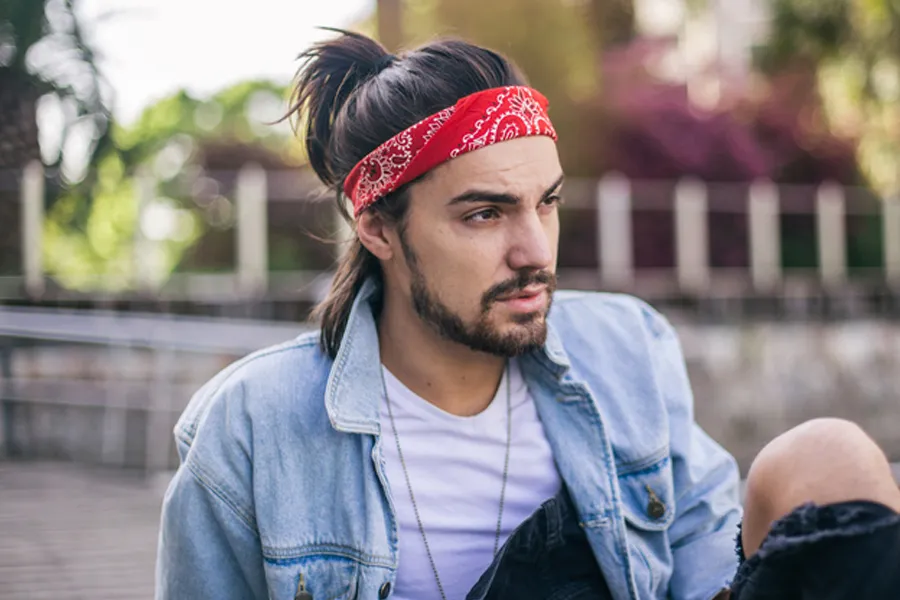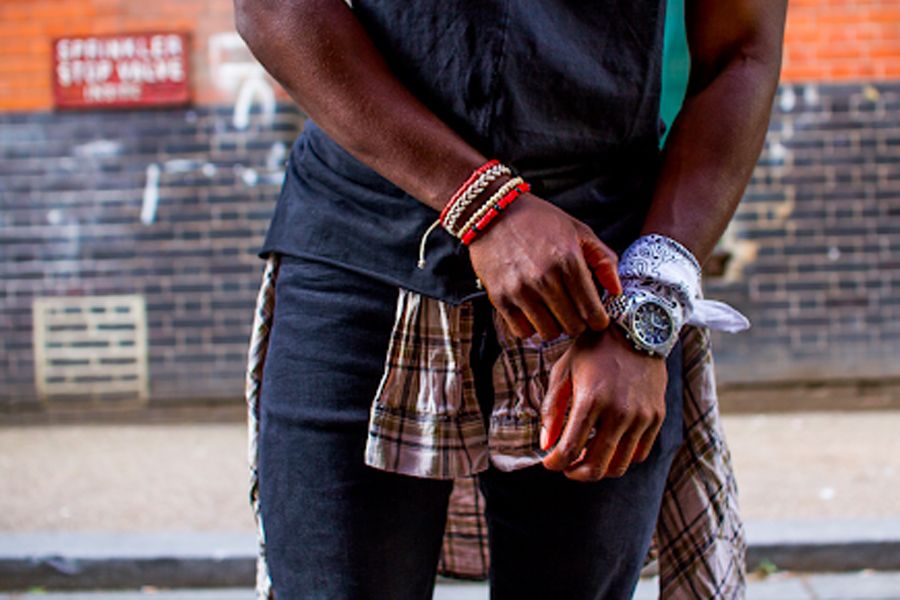 Around the Wrist
Another stylish yet simple way to wear a bandana is to wrap and tie it around your wrist. It will add a perfect dose of attitude to your outfit. Perfect for edgy casual looks, wearing a bandana around the wrist projects an instant rockstar vibe. This look works best with darker bandanas and striking prints. For example, a black bandana with white skulls will appear much more appropriate than a classic burgundy style with a paisley design. Have in mind that a bandana around the wrist looks best when worn a little messy, so don't get caught with yours perfectly folded and tied.
From the Waist
If you're looking for a subtle way to incorporate a bandana into a casual outfit, wearing it from your waist makes an excellent option. When you wear a bandana near your face, such as around your neck or head, it instantly becomes a statement accessory. On the other hand, when worn low from your waist, it can gently accent your look and provide it with a dash of color without appearing overly bold. Wearing a bandana from your waist can also be much more comfortable and easy. All you need to do is tuck it into your belt, a pocket, or waistband or tie it to a belt loop to attach it.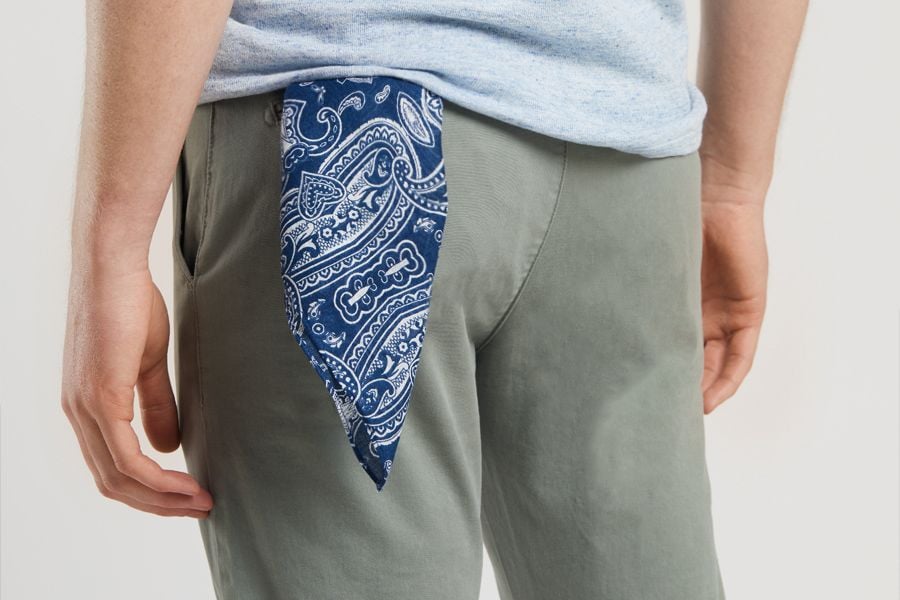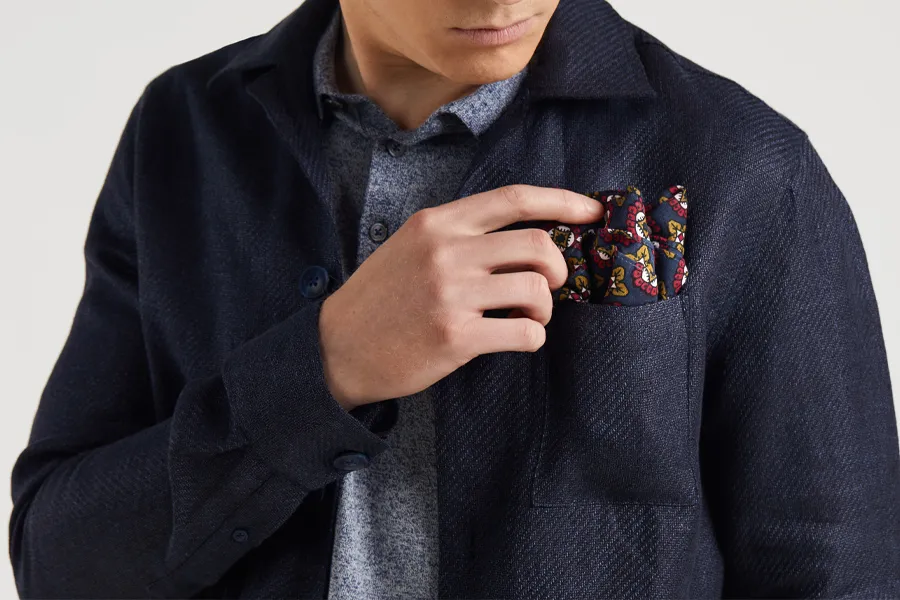 As a Pocket Square
A simple bandana is incredibly versatile. You can actually use it as a backup pocket square in a pinch. Just fold your bandana and place it into your jacket pocket for a quick and dapper look, perfect for a smart casual occasion. To rock the look, select a bandana that matches your outfit. One with a pattern or bright design will stand out while subtle colors will blend in. Also, have in mind the fabric and size and weight of the bandana. We recommend the bandana to be thick enough to poke out of your pocket stylishly but small enough to avoid adding too much bulk. If you prefer you could also iron your bandana before using it as a pocket square to ensure a neat appearance.
With this small-yet-mighty piece of fabric you can accessorize in a new, fresh way to showcase more of your personality, beyond the limitations of a minimalist watch or necklace. A bandana allows you to express your individuality and push whatever norms have been placed on you. We hope you learned on how to wear a bandana and feel confident try one.