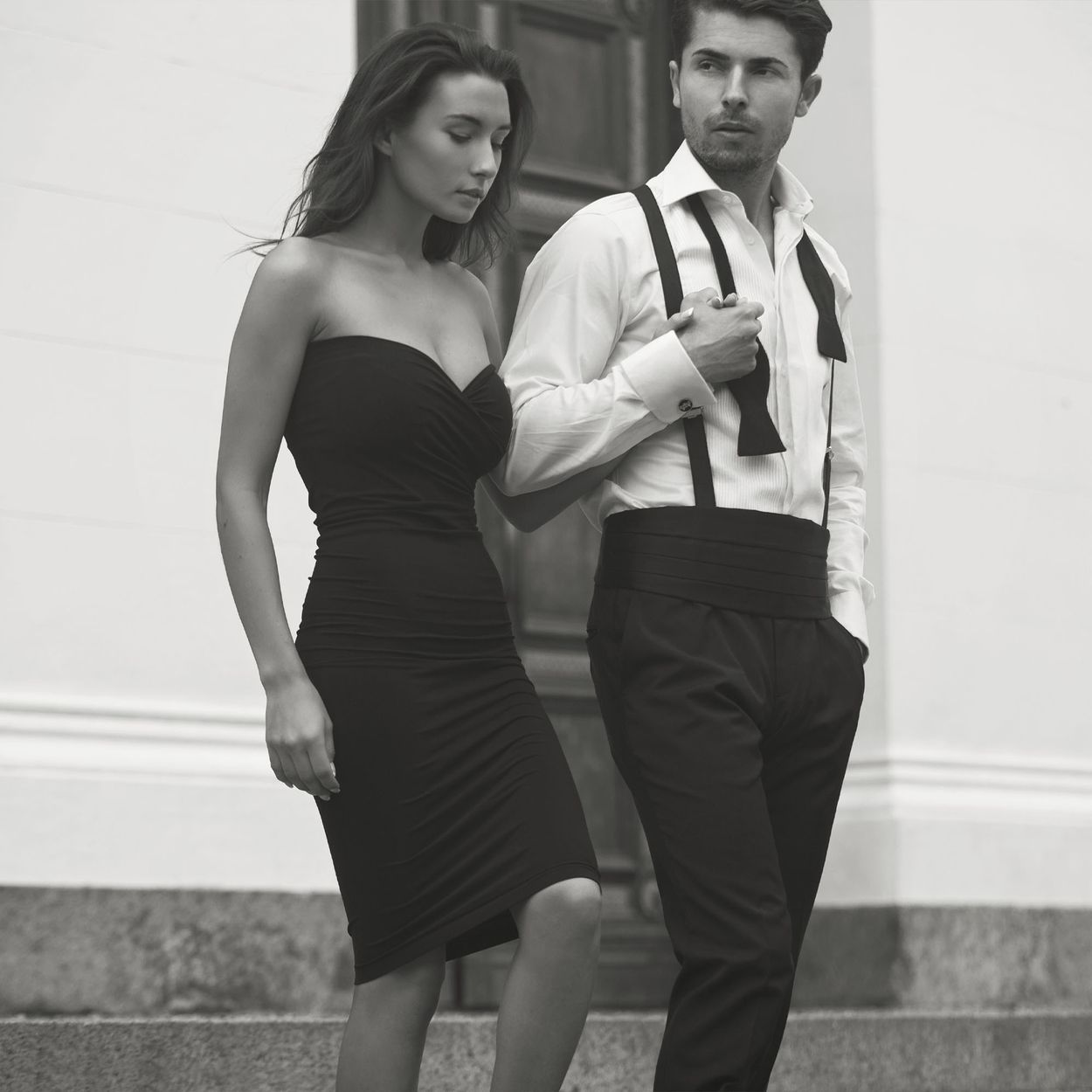 Style advice

Master The Tuxedo Look

The elegance of the tuxedo steam from its simplicity – it's an ultimate classic, the one outfit you don't mess around with.
Many men find the rules governing this suit to be annoyingly and complex. However, once you know the rules, it's the most simple and elegant choice for your nightlife. The history behind the tux origins from King Edward VII whom ordered the first tux from the Savile Row house of Henry Poole, setting the trend followed by the members of a grand country club outside Manhattan in Tuxedo. Once you have pinpointed the rules you are on your way toward eliminating evening-suit stress.
Our 9 rules of the tuxedo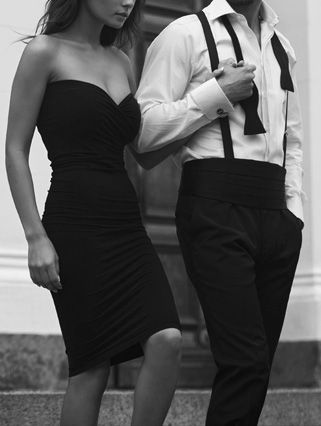 Don't mess with the rules
You shall not compromise about the rules regarding tuxedos. The following rules should be obeyed in your nightlife.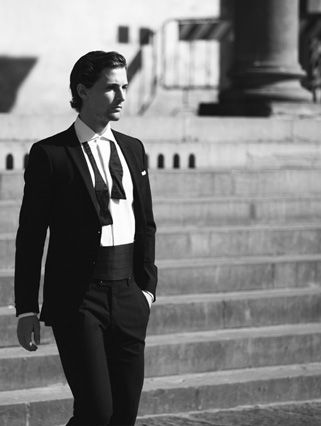 Your tuxedo is black or dark navy
Preferably the tuxedo should be black, but a dark navy could also be a good option. A black or dark navy tuxedo will also endure the test of time, a tuxedo in color are likely to die when the fashion trends shift winds. White dinner jackets are also an option, but are only appropriate for warm-weather gatherings. Don't forget that the white jacket is an alternative, not a directive. The black jacket is perfectly acceptable in any season and any locale and actually trumps the formality of the white version.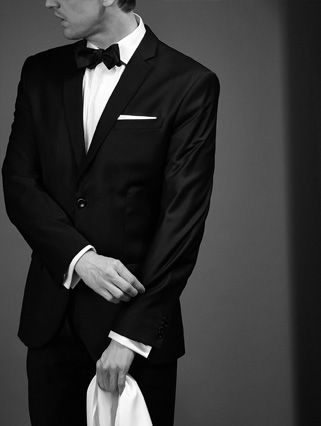 Your tuxedo must be your tuxedo
Making sure you look your absolute best in your tuxedo - make sure it is made-to-measure. Since the tuxedo now is your leisure wear, it should be more comfortable than your sweats, and the only way to achieve this is made-to-measure. See it as a lifetime investment.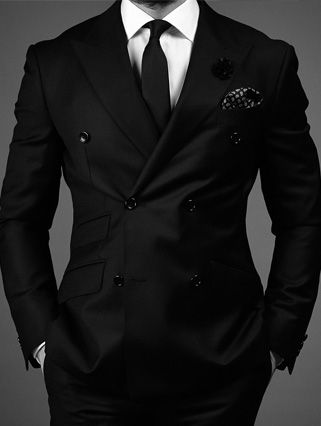 Always wear a bow tie
In the mood for a tie to match your tuxedo? NO! The simple reason for wearing a bow tie to your tuxedo is tradition, you are wearing a tuxedo to show respect for an occasion, and you're wearing a bow tie to show respect for tradition. If you are a tie lover we would recommend a formal black suit with matching accessories like the picture above if it is appropriate for the occasion.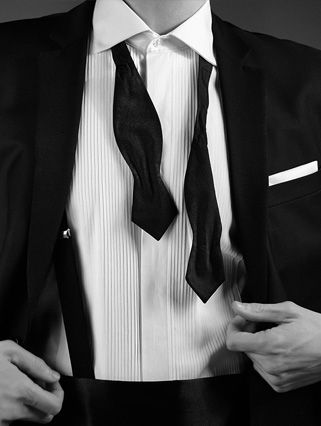 Your bow tie must be a real bow tie
We recommend you to wear a self-made bow tie, if you're unsure how to tie a self-made bow tie - Google is there to help you. It is not more difficult than tying your shoes. However if you don't want to learn we also have pre-made bow ties, but then you are missing out on untying your bow tie on the dancefloor.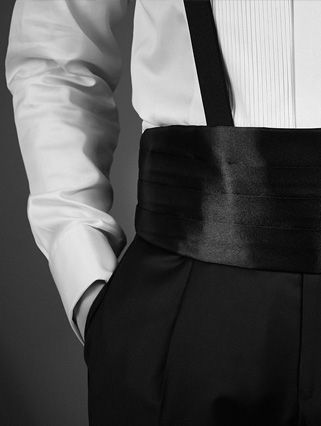 Cummerbund pleats facing up
The cummerbund was fundamentally a girdle, the cummerbund wants to give uplift. The cummerbund is a relatively recent addition to the evening-clothes. Wearing a cummerbund is not necessary and the only time it should be worn is with a single-breasted tuxedo. Feel free to wear just a bow tie and black suspenders when skipping the cummerbund.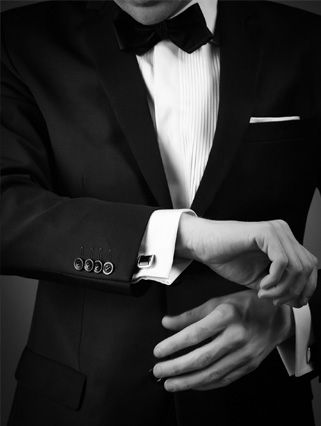 White hanky and double cuffs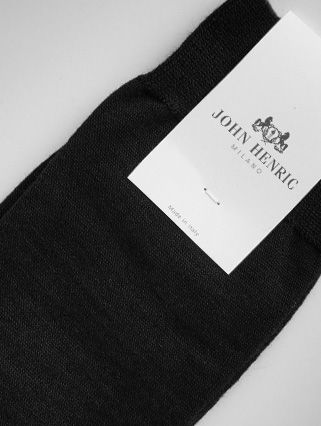 Your socks must be black
We're looking for aesthetic unity here, there should be no disruption below the trouser leg. We have both cotton socks and socks in merino wool. For your tuxedo we recommend merino socks - they will make sure your feet breath and you can with good confidence take off your shoes without worrying about unpleasant odor.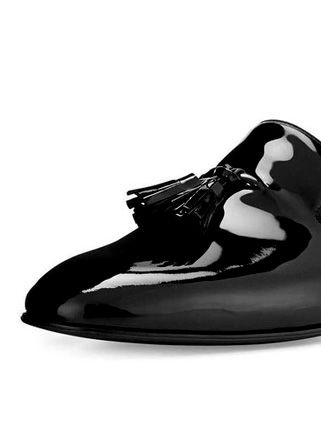 Your shoes should shine
How serious is this rule? Dead serious. Any black shoe brought to a high gloss is acceptable, we don't want to make it any harder than it has to be.