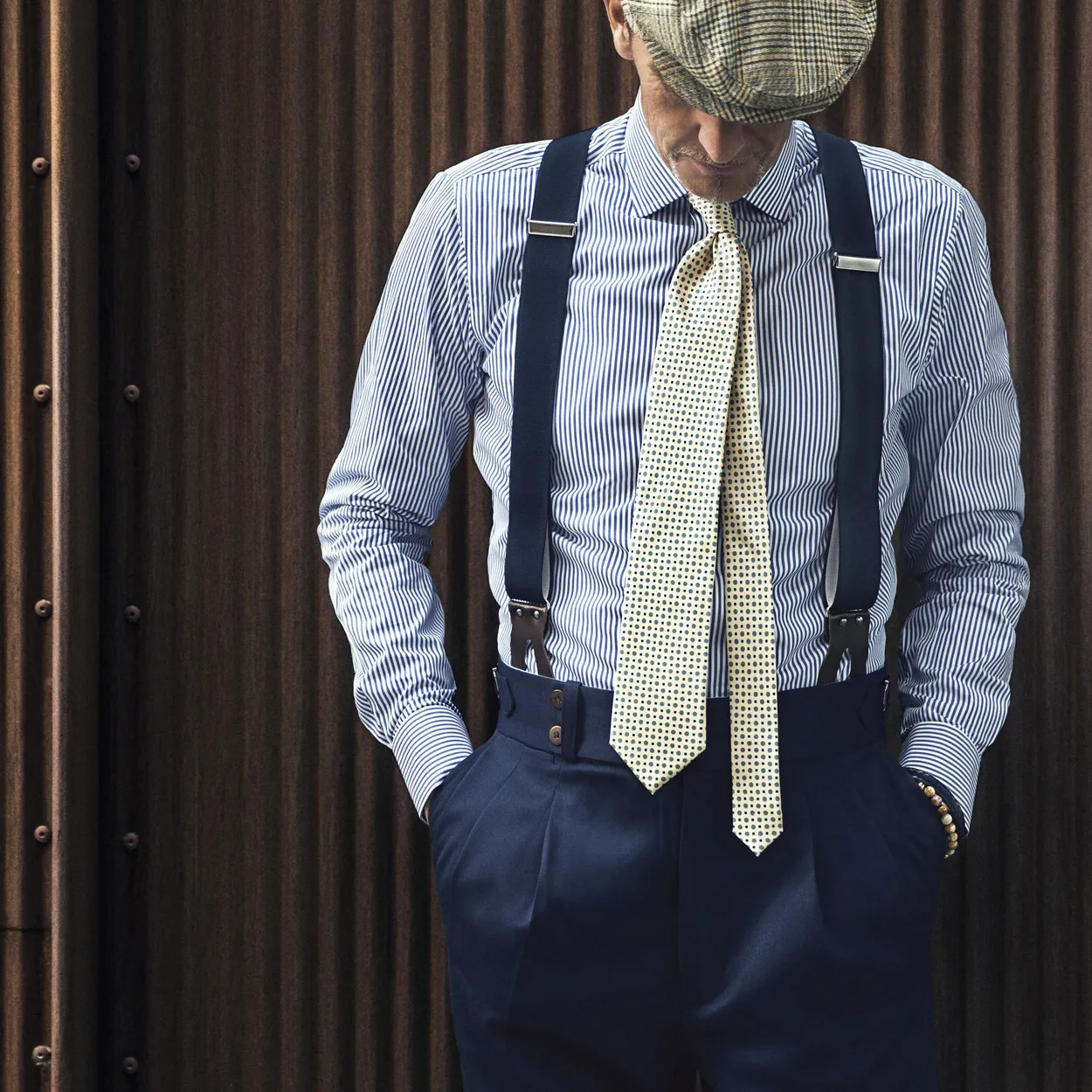 Style advice

How to wear suspenders

It might be hard to comprehend, that the belt is a rather new invention. Before the First World War, wearing a belt was a non-existing idea. It was an accessory reserved for the military. At that time, suspenders were pre-eminent.
Fast forward approximately 100 years; the tables have turned. The belt is far more popular than suspenders. Having said that, there is something so very elegant with the way a man looks with well-placed braces. Without helping it, our minds wander towards the stereotypical Wall Street-bloke: Gordon Gekko. A pair of suspenders are, and always have been, a statement-marker. Braces are a discrete, sophisticated way of signaling that you're aware. That you're conscious and sensible.
Traditionally, button-on suspenders are the proper way of wearing suspenders. Why you might wonder? Simply because 100 years ago, the only way of holding your trousers up was to have a tailor sew buttons on. The buttons were fastened on the inside of the waistband. Although button-on braces are traditional, clip-on braces can be the right option to favor. Clip-on suspenders are a quick and easy way of dressing up, without having to visit the tailor.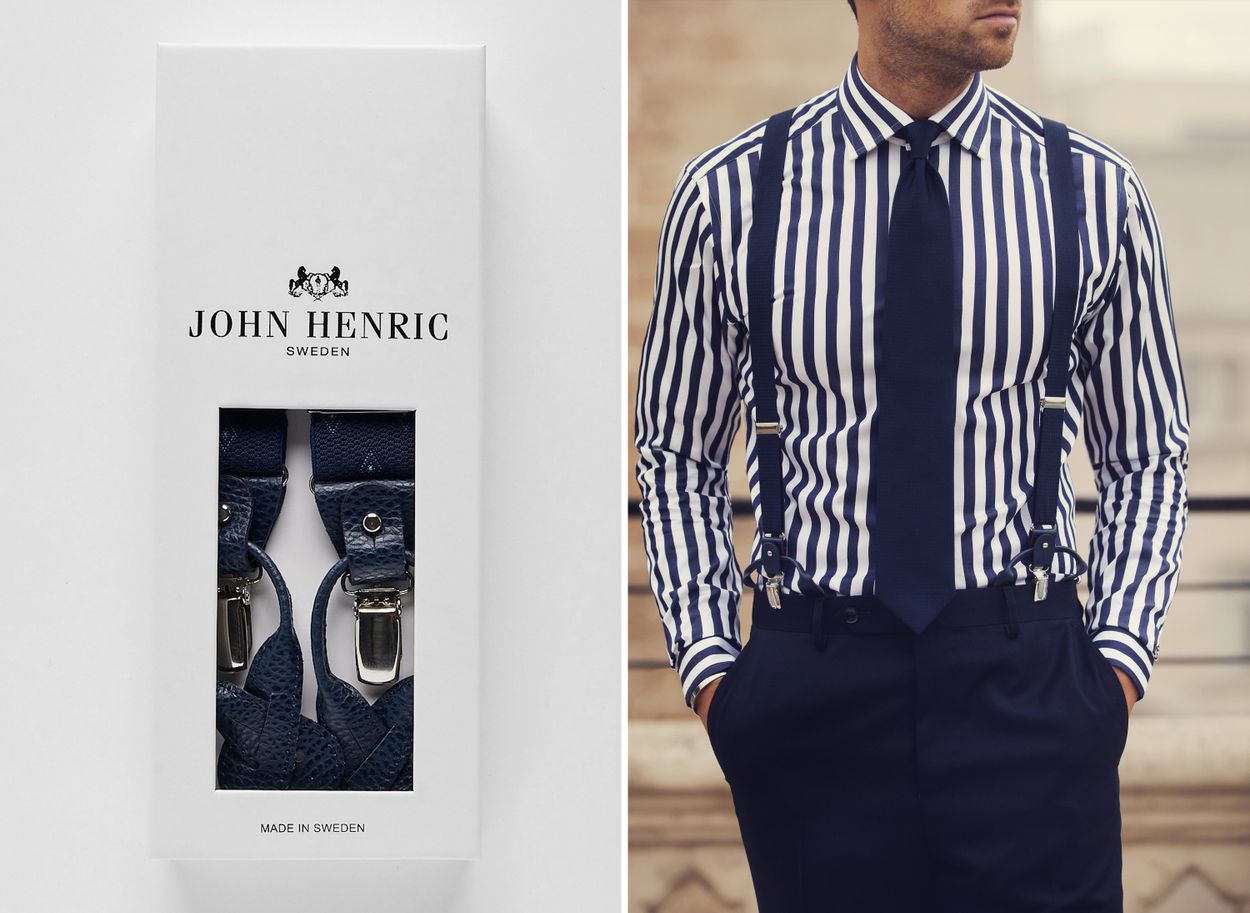 But how do I wear suspenders?
People have been using suspenders since pants were invented. It has become an iconic look. Men's suspenders are not just a way for bankers and denim geeks to keep their pants up, they are also a great evening-wear accessory. At John Henric, we advocate a long-term usage. We advocate accessories that can be used to as much as possible. Therefore, it isn't all that easy to say what one ought to go for, for clip-on suspenders or button-on suspenders. Because there are situations where clip-on braces work better than its counterpart. Naturally, a pair of button-on suspenders suit a suit better - therefore you do wise to invest in both.
Play around with colored stripes or polka dots, or keep things simple and subdued with a pair of red suspenders. When it comes to black suspenders - and the same goes for white suspenders- they work in all contexts but are, above all, the go-to choice for special occasions and celebrations. Regardless of what color you opt for, suspenders give your outfit a touch of charming elegance - in addition to being rather comfortable to wear.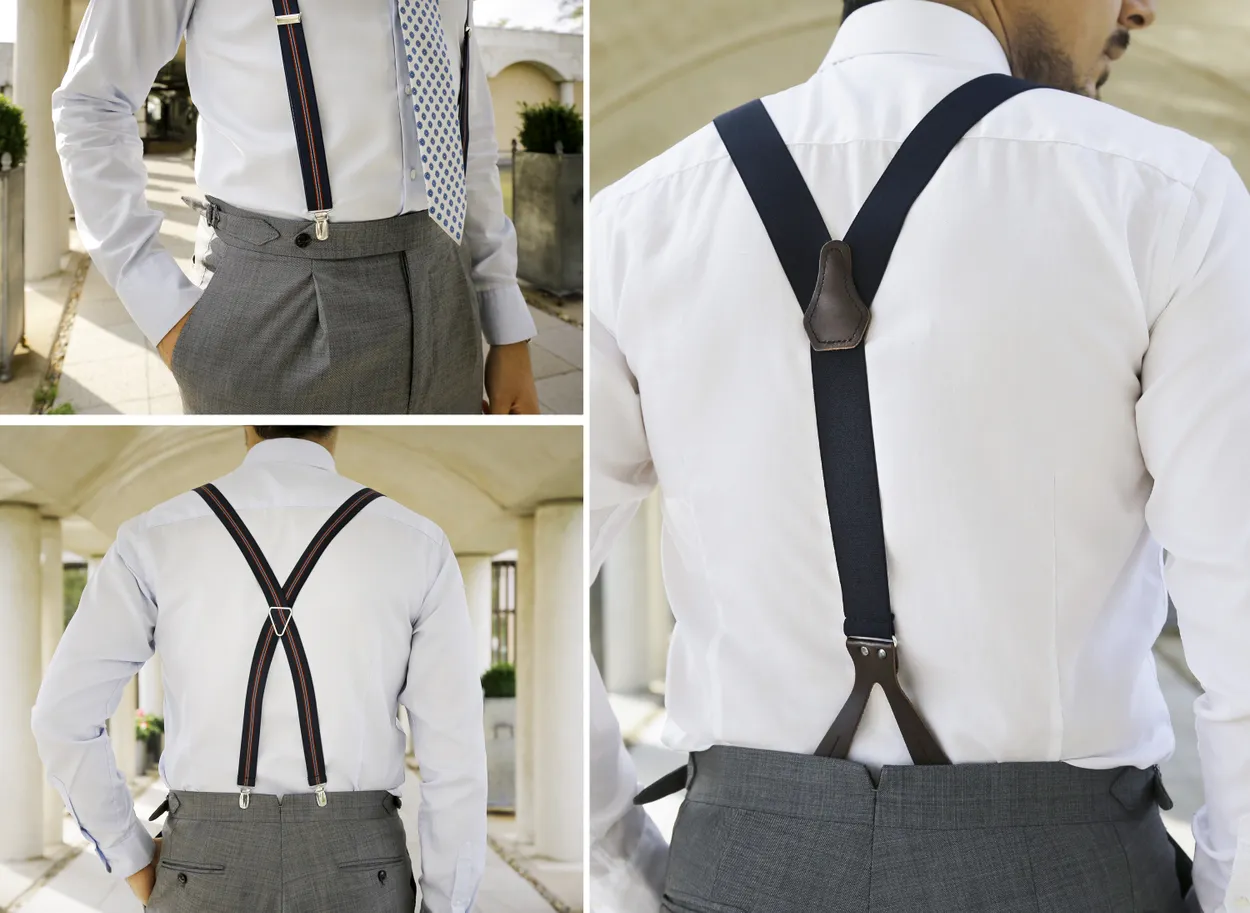 Suspenders: a large variety of alternatives
Nowadays there isn't unusual to stumble upon either narrow or wide suspenders. The market for braces has exploded the last 10 to 15 years. Because of the renaissance for classic menswear. In the search for the perfect pair, we have some rules of thumb. If you're looking for a versatile option, which we recommend that you begin with, a width between 25mm - 35mm is a good go-to width. At John Henric, we recommend investing in items that you can use for a long time. The fast fashioned wear and tear is not something we want to be part of. This width is timeless and elegant.
Braces are a beautiful detail. It's a delightful accessory, which enhances an else wise monochrome outfit. But there are aspects to be bear in mind when investing in a pair of suspenders. One should never wear both a belt and suspenders at the same time. Why? Simply because it is redundant. A belt and a pair of suspenders have the same purpose: to uphold your trousers. Instead, use either a belt or a pair of suspenders. Also, braces ought to enhance an outfit. It's an elegant accessory, not a full-on garment. We hope this guide gave you some useful knowledge on how to wear suspenders.